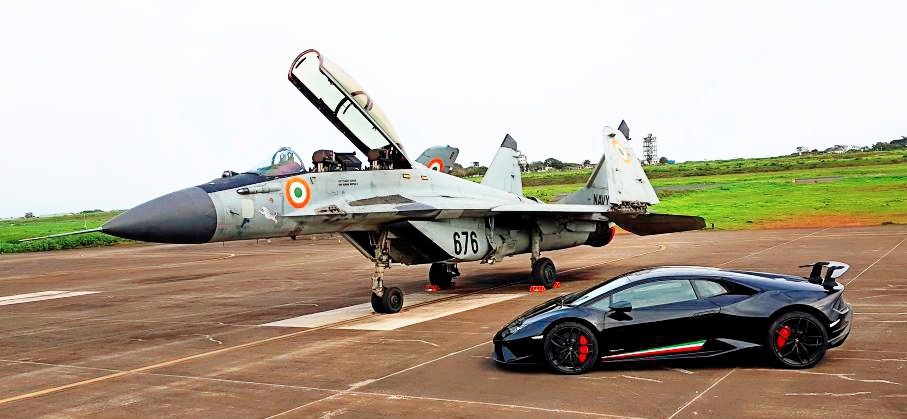 The video you see above emerged yesterday in social media feeds, showing what appears to be an Indian Navy MiG-29K speeding along the tarmac at Goa's Dabolim airfield, with a supercar accelerating alongside. The video, tweeted out by IAF veteran Air Marshal Anil Chopra sparked a fair bit of buzz over what was going on, and whether this was a real video. Well, Livefist can confirm it is.
The video shows an official cinematic shoot featuring one of the Indian Navy's MiG-29K fighters from the 'Black Panthers' squadron based at Goa racing with a Lamborghini Huracan before the fighter lifts off into a steep climb over the Arabian Sea. The film being made will be released during Navy Week in December this year and is being pitched at Indian youth from a familiar adventure/speed angle. Love speed and daring? Sign up with the Navy — that's the proposition.
The Indian Navy, like the Indian Air Force and Army Aviation Corps has a significant shortage of pilots, and needs steady interest in its flying wing to justify proposals to buy expensive new jets in the future.
— Aviator Anil Chopra (@Chopsyturvey) August 4, 2018
An officer at the Navy's Goa base told Livefist, "The film being made is pointed directly at the young. When it's ready, it will be an exhilarating showcase of speed from something that many can't really relate to — a fighter jet that costs hundreds of crores — to the things they can relate to — a sports car, for instance. The line of the film will be direct too: If you have the passion, if you crave adventure and speed, then look no further than the Indian Navy."
The Indian Navy needs 735 pilots (its sanctioned strength) but is short by 91, the government informed Parliament in March this year. The Army is short of 192 pilots in a sanctioned strength of 794. The Indian Air Force is short by 376 pilots on a required strength of 4,231. Waning interest in the military and stubborn voids in the officer ranks continue to haunt the armed forces as they look to create leaner, younger structures.
The Indian Navy, in its fighter-supercar race, appears to have been inspired by a similar speed face-off from a decade ago, when the BBC's Top Gear auto show had a Bugatti Veyron face off with a Eurofighter Typhoon:
from Livefist https://ift.tt/2LVq1Be
via
Live Defense
Why Is The Indian Navy Racing A MiG-29 & A Lamborghini?
Reviewed by
Unknown
on
22:43:00
Rating: