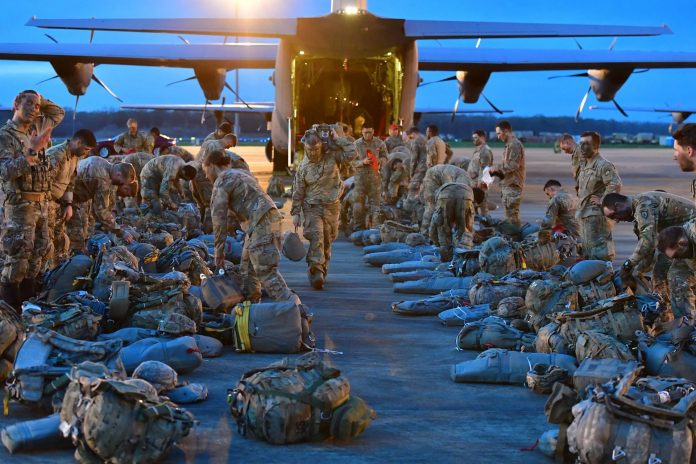 LITTLE ROCK AIR FORCE BASE: Airman from the Air Force's 34th Combat Training Squadron and the U.S. Army collaborated with coalition forces from Canada during the joint forcible entry and airborne assault training to kick off exercise Green Flag Little Rock 20-03 Jan. 11-21, 2020, at the Joint Readiness Training Center at Fort Polk, Louisiana, and in Alexandria, Louisiana.
GFLR 20-03 was held in conjunction with exercise Joint Readiness Training Center 20-3, the Army's final certification event before units are deemed ready to deploy or assume a ready force posture.
This joint live-training tactical exercise focused on combat airlift and airdrop operations, interoperability with our joint and international partners, as well as survival, evasion, resistance and escape.
"In the 34th CTS, our focus is on improving the joint relationship between the mobility air forces and our joint partners," said U.S. Air Force Lt. Col. Phillip Newman, 34th CTS director of operations.
This exercise also included partners from the U.S. Army; 921st Contingency Response Squadron of Travis Air Force Base, California; 321st Contingency Response Squadron at McConnell AFB, Kansas; six C-130J Super Hercules from the 41st and 61st Airlift Squadrons from Little Rock AFB, Arkansas; four C-17 Globemaster III's from the 62nd Airlift Wing at Joint Base Lewis-McChord, Washington; two C-17 Globemaster III's from the 437th Airlift Wing at JB Charleston, South Carolina; and two C-130J Super Hercules from the Royal Canadian Air Force.
The desired training objective was to simulate an airfield assault, airfield opening and subsequent follow-on sustainment support in which participants train together to ensure efficient interoperability for potential future operations, Newman said.
"We're trying to give our crews combat-like experience before they deploy by increasing exposure to working with an external command and control agency," he explained.
In addition to promoting interoperability between the U.S. Army, U.S. Air Force and international partners, this exercise focused on the ability to operate cohesively in an austere environment and being able to rapidly assemble forces in response to crises.
"The joint force aspect improves everyone involved," Newman said. "It allows the U.S. Army users to become familiar with different regulations the U.S. Air Force has on preparing cargo before it can be loaded on an aircraft. From a planning perspective, it allows U.S. Air Force aircrew to better understand how important the training is to increase cohesiveness and lethality."
Exercises like this improve the process of getting a ground force moved into an area as rapidly as possible so they can build a combat capability in the objective area.
"This exercise helps aircrew (with) the "why" behind all the training while also being able to drop actual equipment and personnel rather than simulating it," Newman said.
Exercises like GFLR 20-03 and JRTC 20-3 ensure the development of ready, willing and capable partners to collectively address global security challenges.
"This training allows our crews to be immersed in a scenario that an individual base or squadron can't organically create," said U.S. Air Force Lt. Col. Thomas Joyner, 34th CTS commander. "We aren't going to get the same level of players, threat systems, or the joint effort aspect obtained in a standard exercise. GFLR is a much more robust and enriched training environment for all participants."
from Defense News by DefenceTalk.com https://ift.tt/317z6eF
via
Defense News
US, Canadian forces complete Green Flag Little Rock exercise
Reviewed by
Unknown
on
05:14:00
Rating: